Celebrating 40 Years Dedicated to the Free Flow of Information
"Speak up Americans! Your silence . . . is the greatest threat to our liberty." — Joseph L. Brechner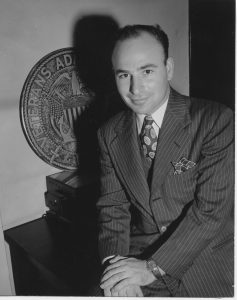 Pioneer broadcaster Joseph L. Brechner (1915-1990) was one of the first broadcasters in the country to run on-air editorials and inspire dialogue on issues such as civil rights, political and social extremism, and freedom of information. An award-winning journalist and media executive, Brechner operated radio and TV stations in Florida, Maryland, Pennsylvania, and Ohio, bringing issues to the forefront that he believed would better life in our communities. The son of Eastern European immigrants, Brechner was deeply patriotic and considered American citizenship both a privilege and responsibility. To that end, Brechner dedicated his life to celebrating American democracy and our First Amendment freedoms. During his lifetime, Joseph L. Brechner received numerous accolades, but calling him an American was the most important. He dedicated his life to the principles of American democracy and individual freedoms guaranteed in our Constitution.
Radio Days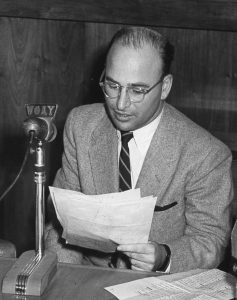 Brechner's early training as a scriptwriter for the military taught him the power and responsibility of radio news. In 1941, with the involvement of prominent black leaders such as Judge William H. Hastie and civil rights leader Walter White, Brechner authored the first broadcast about African Americans in the military which became part of the military's plan for desegregating the armed forces. Six months before the Pearl Harbor attack, 200 people crowded into Radio City Music Hall to hear the live broadcast. After WWII, Brechner served as Director of Radio Service for the Veterans Administration under General Omar Bradley, writing programs such as "Here's to the Veterans," and "What the Veteran Wants to Know" for over 16 million servicemen and women.
Pushing Progress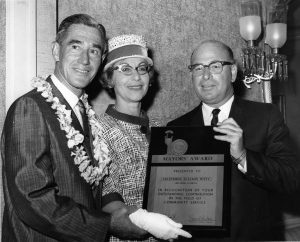 With local opposition and scant national coverage, Brechner was at the forefront of reporting news about the civil rights movement. He considered it his professional duty to inform the public and to facilitate public dialogue about racial injustice in the South. Some credit Brechner's public awareness campaign with helping keep disturbances at a minimum in Orlando during the civil unrest of the 1960s. Brechner served as one of the original members of the Orlando Human Relations Committee that Mayor Robert S. Carr formed in 1956 to address race relations and peacefully desegregate the community.
Freedom of Information
In addition to First Amendment freedoms, Brechner was concerned with freedom of information. He recognized that access to public records and government meetings was vital to a progressive democracy. Through his leadership role with the Society of Professional Journalists, Brechner spearheaded two significant freedom of information battles that set national precedents. The first, in 1975, helped to lift press restrictions on the space program resulting in today's live and uncensored press access. The second, one year later, culminated in the staging of a mock trial at the Orange County Courthouse to demonstrate that cameras could be used without disrupting the court. Within two years, cameras became commonplace in Florida, and today, most states permit the practice.
The Immigrant's Son
It is clear that Brechner's personal experiences greatly influenced him. His parents had immigrated to the U.S. to flee oppression in Eastern Europe. As a youth, Brechner lived in a poor, racially mixed area of Detroit, Michigan preceding and following The Great Depression, where he experienced racial conflicts first-hand. Later in life, because of his Jewish heritage, he was excluded from "Gentiles-only" neighborhoods and organizations. At an early age, Brechner developed a love for writing. He authored many creative works, and, during his retirement, he completed an unpublished autobiography and enjoyed writing poems with his grandchildren.
"Joe came from nothing; I came from nothing, and we had this mission to perform. We had to give, we had to help. Joe was always so proud of America, that it gave him a chance to be something. If our folks had stayed in Russia, they and we might have died. So, I think it was eternal gratitude that he was born here in a democracy and that there was nothing to fear."  — Marion Brechner, interview by Dr. Linda Perry,1991
The Legacy Continues
In 1998, Mrs. Marion B. Brechner donated her husband's papers to the Orange County Regional History Center, leaving documentation of his groundbreaking work and proof of the impact one individual can make on his community. In addition, Mrs. Brechner, through a gift, established the Joseph L. Brechner Research Center at The Orange County Regional History Center to provide a public reading room that provides access the collections of the Historical Society of Central Florida. The gift makes it possible for generations of Central Floridians to learn about the Brechner legacy and history and to make informed decisions about their future. Text and photos courtesy of The Orange County Regional History Center. Special thanks to Tara J. Olivero and Cynthia Cardona for their assistance.