"FOIA Terrorist" Jason Leopold Shares Insights on Using the Freedom of Information Act as an Investigative Tool
By Lila Greenberg, B.S. Telecommunication 2022
The Brechner Center for Freedom of Information hosted its inaugural Brechner Speaker Series event featuring award-winning investigative journalist Jason Leopold. In collaboration with the Bob Graham Center for Public Service and the UF College of Journalism and Communication, the Brechner Center invited Leopold to campus to generate a thought-provoking discussion about the Freedom of Information Act (FOIA), government secrecy, and privacy. The discussion was led by the Brechner Center's Pulitzer Prize-winning journalist-in-residence Sara Ganim.
(To watch a video of this event, click here.)
Referred to as "the most active individual FOIA litigator in the United States today," Leopold is well-known for using the Freedom of Information Act to acquire government documents and unearth government secrets – forcing government agencies to be transparent about their inner workings. Leopold, who uses FOIA as the bedrock of his reporting, has been at the center of stories that have had enormous impact, including the release by the U.S. State Department of 52,000 e-mails from Hilary Clinton's private server.
At the event, Leopold reflected on his experiences as a journalist, telling viewers of the time he realized the importance of using documents to back up his work. Earlier in his career, Leopold mistakenly published a factually incorrect story, tarnishing his credibility as a result. He knew if he was going to continue working as a journalist, he needed to learn from his mistake and change the way he approaches his craft.
Leopold recounts how he was able to rebuild his reputation by focusing on documents acquired through the FOIA to write stories in the public interest. His, admittedly, aggressive use of the FOIA, has angered government agencies, earning him the label "FOIA terrorist."
"Documents are very important," he said. "There are instances where documents tell the story."
Leopold has built public records requests into the front end of his newsgathering process, then continues cultivating sources that can shed light on situations uncovered through FOIA-acquired documents. The use of FOIA sets Leopold apart from other journalists. FOIA has historically been a cautioned tool for journalists for a few reasons.
"[FOIA] is a tedious and painstaking process and there is a need, in some ways, to get records or get information immediately and then push it out," Leopold says. "And there is also a knee-jerk reaction that [FOIA] takes too long, which it does, and therefore the information won't be valuable because the public will have moved on."
Leopold counters such reasons.  "Records are extremely valuable even if they are dated."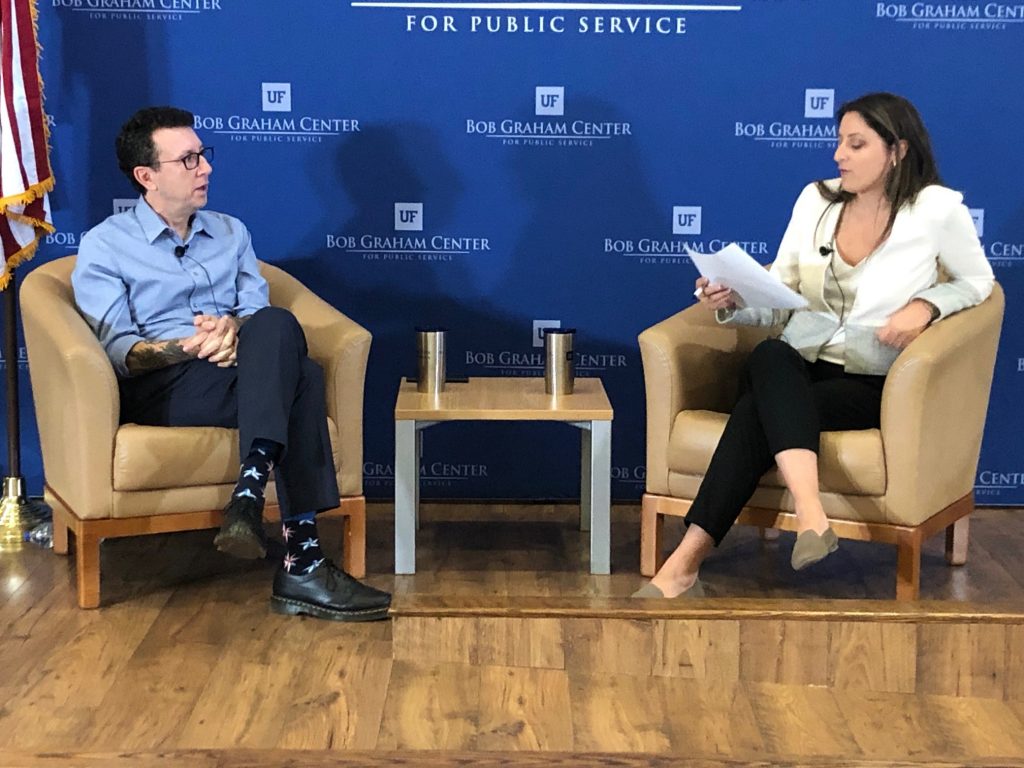 "I truly believe that [documents are] a way to build one's credibility as a journalist. You're also helping the news organization in terms of their credibility and integrity… it is how you can get the public to trust you." Leopold continued to stress the importance of using accessible records to provide the public with much-needed transparency surrounding government happenings.
To the young journalists in the room, Leopold offered tips for using FOIA to gain information, including reasonably describing the records desired so the receiving agency understands exactly what records are being requested. He advises those who use FOIA to supplement their reporting to not worry too much about potential threats. Rather, he encourages journalists to focus on their motivations behind requesting documents.
"The kinds of records that I'm seeking are ultimately about injustice and trying to hold power to account," he said.
For aspiring journalists who want to gain experience using FOIA requests to complement their reporting, Leopold advises becoming familiar with government agencies and their functions. In addition, he suggests they educate  themselves by accessing past public records and reading them. These tips, he says, will assist when filing future requests.
Leopold advocates for the pros of being in the underdog position as a journalist. Currently employed at Bloomberg News, Leopold has also worked for other major news outlets including Vice News and BuzzFeed News. He has also worked for smaller news organizations in the past and encourages young journalists to do the same. Smaller organizations provide young journalists the opportunity to find their place as a reporter, and Leopold believes this is a vital step in a journalist's career.
When asked about his favorite stories, Leopold did not hold back any details, describing each event detail-by-detail, step-by-step. He discussed when he requested FBI records surrounding Donald Trump and his businesses, and how he prompted the discovery and release of content from Hillary Clinton's private email server. Whether it is impactful on a national or smaller scale, Leopold's work showcases his grit and dedication to uncovering government secrets and providing this information to the public.
Posted: October 25, 2022
Category: Brechner News
Tagged as: FOIA, Freedom of Information, Jason Leopold