Frank LoMonte Receives Washington, D.C. Pro SPJ Chapter's 2022 Distinguished Service Award
Frank LoMonte, former University of Florida College of Journalism and Communications Brechner Center for Freedom of Information director, received the Society of Professional Journalists (SPJ) Washington, D.C. Pro Chapter 2022 Distinguished Service in Local Journalism Award at the chapter's 2022 Dateline Awards and Hall of Fame dinner on June 14.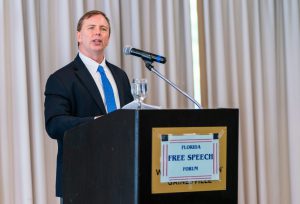 LoMonte, currently legal counsel at CNN, received the award in recognition of his tenure as executive director of the Student Press Law Center (SPLC), based in Washington, D.C., from 2008 to 2017. He led the Brechner Center from August 2017 until April 2022.
At SPLC, LoMonte responded to requests for legal help from journalists and educators throughout the country. He taught educational law workshops throughout the U.S. and was the lead author of the SPLC's reference book, "Law of the Student Press." His articles about media-law topics have been widely published in daily newspapers and legal journals.
Posted: June 23, 2022
Category: Brechner News
Tagged as: Brechner Center for Freedom of Information, Frank LoMonte