Imani Jackson Authors Article on Florida High School Brain Injury Data Accountability
Imani Jackson, University of Florida College of Journalism and Communications Brechner Center for Freedom of Information legal fellow and CJC doctoral student, is the author of "Who Will Take Ownership of Florida High School Football Concussion Figures" published in the Journal of Civic Information, Vol. 3, No 1 (June 2021).
Jackson reviewed documentation of varsity football player concussions and sport-related traumatic brain injuries at dozens of Florida high schools.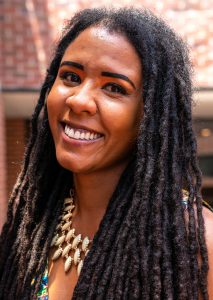 According to Jackson, "The paper explores the legal creation and deference due the Florida High School Athletic Association as a regulatory body for Florida's student-athletes, the lived experiences of sport-related brain injuries and whether the maintenance and publication of these concussive records implicates student-athletes' privacy rights."
For nearly two years, the Brechner Center pursued physical copies of redacted concussive documentation at dozens of Florida high schools and verified numerical accounts of how many varsity football players had been concussed in connection with play during the 2017-2018 school year.
She adds, "We can all benefit from a societal evolution toward appreciating contact sports – but not to the point that youth athletic competitions devolve into lucrative free-for-all events, at the expense of young people's developing brains."
Posted: July 8, 2021
Category: Brechner News
Tagged as: Brechner Center for Freedom of Information, Imani Jackson