Frank LoMonte Comments on "Cops as Victims" Florida Court Ruling
Frank LoMonte, University of Florida College of Journalism and Communications Brechner Center for Freedom of Information director, was quoted in "Cops as 'Victims' Court Ruling Means an Officer Like Derek Chauvin Would be Anonymous in Florida" published on floridabulldog.org on April 13.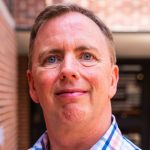 The article addresses how an adverse court ruling may allow police officers to keep their names secret even after being involved in a high-profile use of force. In response to the ruling, the Brechner Center has signed onto a brief in the Florida First District Court of Appeal DCA case, Florida Police Benevolent Association, John Doe 1 and John Doe 2 vs. City of Tallahassee.
"Derek Chauvin is Exhibit A," said LoMonte. "The reason that we know Chauvin has 18 prior complaints on his record, none of which results in his losing his job, is because his name was public record. If we don't know the names of the officers, then we don't know whether the shooting [or other deadly force] was a one-time aberration or part of a pattern of behavior."
Posted: April 14, 2021
Category: Brechner News