Frank LoMonte Authors Article on Off-Campus Regulation of Student Speech
Frank LoMonte, University of Florida College of Journalism and Communications Brechner Center for Freedom of Information director, is the author of "The Future of Student Free Speech Comes Down to a Foul-Mouthed Cheerleader" published on Slate.com on March 29. The article is part of Slate's Future Tense series, which looks at the intersection of free speech and technology. LoMonte describes the high stakes of a U.S. Supreme Court case, Mahanoy School District v. B.L., that will be decided this term. The decision will set the standard for how much speech schools and colleges can regulate when students are using off-campus social media on their personal time.
The case involves then ninth-grader Brandi Levy who used profanity in a Snapchat post to share her feelings about school and life. Even the post was sent over the weekend off of school grounds, she was subsequently banned from the cheerleading squad. She filed suit and a federal appeals court ruled that school authorities violated the First Amendment by disciplining her for the off-campus speech. The school district appealed the ruling to the U.S. Supreme Court.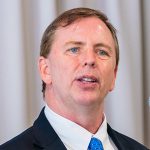 According to LoMonte, "I always tell my students that I don't need a semester to teach them First Amendment law, just a sentence:  'It's all about where you draw the line.' In the off-campus world, nothing short of threatening violence, distributing child pornography, inciting a riot, or inviting someone to join a criminal conspiracy can justify governmental sanctions for the content of a speaker's message."
"Speech on school grounds during school time is addressed entirely to a captive audience of listeners who are legally compelled to be there, so it makes sense that the school has more authority," said LoMonte. "But when a student uses an off-campus platform, no one is compelled to listen, and the 'audience' is anyone with internet service. Therefore, it stands to reason that students must have greater First Amendment protection when they are speaking off campus on personal time."
Posted: March 29, 2021
Category: Brechner News