Frank LoMonte and Sara Ganim Interviewed for an Episode of "The Intercollegiate"
Frank LoMonte, University of Florida College of Journalism and Communications Brechner Center for Freedom of Information director, and Sara Ganim, Brechner Hearst Journalism fellow, were interviewed for episode 20 of "The Intercollegiate" on Aug. 3.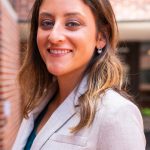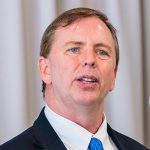 The interview featured the new Brechner podcast, "Why Don't We Know," and the first installment, "More Than a Code of Silence," that focused on the rights of college athletes to speak with the news media and the unconstitutionality of restrictions that keep them from giving interviews without permission.
According to LoMonte, the interview also included a mention of a forthcoming episode about concussions in college sports and how one-third of all major public universities in the country revealed that they don't keep statistics on how often people get concussed.
"The Intercollegiate" podcast features collaborations with academics, students and other media outlets to bring a greater illumination and understanding to the factors that drive college sports, and how intercollegiate athletics intersects with American politics, public health, economics and higher education.
Posted: August 4, 2020
Category: Brechner News
Tagged as: Brechner Center for Freedom of Information, Frank LoMonte, Sara Ganim