Brechner Center Podcast Preview Episode Features College Athlete Gag Policies
The Brechner Center for Freedom of Information today launched a new podcast series, "Why Don't We Know," focusing on the ways that government agencies fail to gather and share information essential for public safety and welfare. The podcast is produced by Pulitzer Prize-winning journalist Sara Ganim, currently Hearst Journalism Fellow at the Center.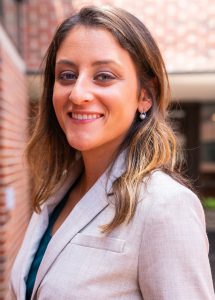 The newly debuted preview episode, "More Than Just a Code of Silence," features Ramogi Huma, the executive director of the National College Players Association, and Brechner Center Director Frank LoMonte, discussing how college athletic departments restrain athletes from speaking to the public and press, and the First Amendment issues raised by such "gag" policies.
The segment highlights a Brechner Center study of college athletic programs, forthcoming in the next edition of the Nebraska Law Review, that identifies systemic violations of athletes' legally protected free-speech rights at public universities throughout the country.
According to Ganim, "College athletes who attend public universities are terrified about speaking out about controversial topics because they don't want to appear disloyal and because they believe they could lose their place on the team if they break the rules and talk to the press without permission."
Ganim will spend the 2020-21 school year working with UF journalism students on episodes of "Why Don't We Know," with the first season focusing on secrecy in higher education and K-12 schools. More episodes will be available in August and will continue throughout the fall.
"Why Don't We Know" is staffed largely by UF student talent, including editor Amy Fu, composer Daniel Townsend, and more than a dozen student reporters who have spent the past year filing freedom-of-information requests and tracking down interviewees across the country. The project is supported by a grant from the Hearst Family Foundations, as part of the Brechner Center's "data deserts" initiative to identify shortcomings in ways government agencies gather and distribute information.
The podcast is available on the Apple and Spotify platforms, and fans can sign up for updates on the latest episodes via MailChimp.
Posted: July 2, 2020
Category: Brechner News
Tagged as: Brechner Center for Freedom of Information, Frank LoMonte, Sara Ganim, Why Don't We Know