Kaiser Health News Reporter Wins 2019 Brechner Freedom of Information Award
Kaiser Health News reporter Christina Jewett is the winner of the 2019 Brechner Freedom of Information Award for exposing a secret federal database where regulators concealed millions of reported malfunctions in medical devices.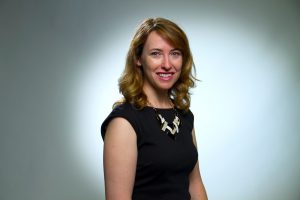 Jewett's March 2019 story, "Hidden Harm," and extensive follow-up reporting led the Food and Drug Administration to belatedly disclose 5.7 million reports of potentially dangerous failures in breathing machines, breast implants and other federally regulated medical equipment.
"It's so timely at this moment when the public is reliant on expert health reporters for literal life-and-death information that we honor Christina Jewett and Kaiser Health News for contributing to the public's understanding of medical hazards," said UF Media Law Professor Frank D. LoMonte, director of the University of Florida College of Journalism and Communications Brechner Center. "The transparency of medical information held by government regulators has never been more vital, and Christina and KHN are continuing to do that important accountability work today under battlefield-type adversity."
Jewett's reporting focused on the hidden dangers posed by staplers and staples used in surgical procedures. When the devices don't close surgical incisions properly, patients can suffer life-threatening blood loss. She discovered that the FDA's publicly available database of malfunctions exponentially understated how often the devices fail, giving medical providers misleading information about their reliability. As a result of KHN's reporting, the FDA stopped allowing manufacturers to file "alternative summary" reports invisible to the public and to medical professionals
"I am so proud of Christina for her crazily dogged pursuit of this previously hidden information," said Elizabeth Rosenthal, editor-in-chief of Kaiser Health News. "Her tenacity forced its quick release and has no doubt saved lives. Proof that investigative journalism is an essential service."​
The Brechner Freedom of Information Award has been presented annually since 1986 by the Joseph L. Brechner Center for Freedom of Information at the University of Florida to reward excellence in reporting that draws on government documents and data, shedding light on official secrecy. The award includes a $3,000 cash prize, made possible by an endowment created by the Brechner family.
A list of previous winners can be found at http:/brechner.org/about/past-awards/
Posted: April 2, 2020
Category: Brechner News
Tagged as: 2019 Brechner Freedom of Information Award, Brechner Center for Freedom of Information, Christina Jewett, Frank LoMonte