Sara Ganim's New Film Focuses on PFAS Contamination in Michigan
Sara Ganim, University of Florida College of Journalism and Communications Brechner Center for Freedom of Information Hearst Journalism fellow, discussed her new independent film, "No Defense: The U.S. Government's War on Water" on "First Friday Focus on the Environment: New PFAS Film to Open in Ann Arbor" on WEMU 89.1 in Ann Arbor, Michigan.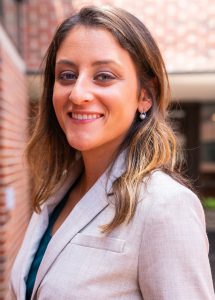 Ganim was interviewed by WEMU host David Fair and Michigan League of Conservation Voters Executive Director Lisa Wozniak. Her film examines the PFAS contamination emanating from the old Wurtsmith Air Force Base in Oscoda, Michigan and how a government's conflict of interest has led to inaction and a growing water crisis in the area.
PFAS are synthetic chemicals found in many products, including food packaging, household cleaners and nonstick cookware.
According to Ganim, she was drawn to the story after reporting on the water situation in Flint, Michigan. She knew that PFAS exposure was a problem and she felt that the U.S. government could be doing a lot more for those who are victims of contamination, but failed to act because it will cost a lot of money.
The film will premiere at a free screening in Ann Arbor on Feb. 19.
Posted: February 18, 2020
Category: Brechner News
Tagged as: Brechner Center for Freedom of Information, Sara Ganim