Media Coalition Asks Supreme Court to Hear Author Krakauer's Appeal for Access to Campus Safety Records
Federal student privacy law has been abused and distorted to deny journalists access to records essential for public safety, a coalition of media and First Amendment organizations told the U.S. Supreme Court Monday, urging justices to accept author Jon Krakauer's petition in a much-watched freedom-of-information case.
Krakauer, the acclaimed author whose bestselling works include Into The Wild and Into Thin Air, is asking the justices to hear his appeal from a Montana Supreme Court decision denying him access to records that would shed light on how state education officials handled a high-profile sexual-assault claim involving a star college athlete.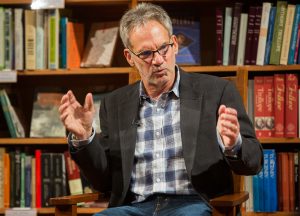 A brief authored by the Brechner Center for Freedom of Information and joined by six media companies and open-government organizations explains how educational institutions have misused "student privacy" to justify withholding public records necessary to evaluate the performance of government officials.
The Krakauer case involves the way educational institutions apply the 1974 Family Educational Rights and Privacy Act ("FERPA"), a federal statute that requires agencies that receive federal education funding to enforce policies protecting the confidentiality of "education records." FERPA regularly collides with state freedom-of-information laws, frustrating families and journalists who need records from public schools and colleges.
As the news organizations' amicus brief explains: "Journalists keeping watch over the integrity and safety of schools and colleges regularly are forced to go to court, because hidebound institutions take advantage of the muddle of contradictory judicial interpretations of FERPA to opportunistically conceal unflattering records."
Monday's friend-of-the-court brief explains that, although Congress intended for FERPA to apply only to colleges and schools that completely fail to make an effort to secure their students' confidential records, the law is widely misunderstood and misapplied to obstruct access to records that the public is entitled to see. The brief cites egregious cases in which schools and colleges have tried to cover up misconduct by claiming that FERPA forbids releasing public records, including a recent Columbus, Ga., case in which news organizations were forced to sue for access to a surveillance video showing how an employee critically injured a 13-year-old student.
The case involves public records that Krakauer requested while working on Missoula, his nonfiction account of sexual assault on college campuses set in the hometown of the University of Montana. The book prominently features the case of Jordan Johnson, quarterback for UM's Grizzlies, who was accused of sexually assaulting a classmate. Johnson was tried in a criminal court and acquitted of all charges. But in a parallel campus disciplinary proceeding, he was found responsible for sexual misconduct — a decision that the state's Commissioner of Higher Education, Clayton Christian, overturned without explaining why.
Krakauer is seeking access to Christian's files to determine who might have lobbied to have the disciplinary findings reversed. But the state of Montana has classified the commissioner's files as FERPA records, even though Krakauer has agreed to accept the records with the student accuser's name withheld and even though Johnson's case has already been publicly aired in court, making it no longer confidential.
Krakauer's case has cycled through Montana state courts for the past five years, ending with a July 2019 ruling from the Montana Supreme Court accepting the state's contention that Christian's records cannot be released without giving away confidential information, exposing the state to federal sanctions as a FERPA violator. Krakauer is asking the U.S. Supreme Court to review and reverse the state-court ruling.
Although Krakauer completed the book in 2015, he continues pressing for access to the records to set a precedent for the benefit of other authors, journalists and researchers who need documents from educational agencies. In an article for The New York Times Magazine, Krakauer explained his rationale for insisting that the state must account for its handling of the Johnson case, which the U.S. Department of Education criticized in an independent investigative report:
Society has an interest in understanding how publicly funded universities deal with rape accusations. People are entitled to know why a state commissioner of higher education rejected the findings of a university tribunal, resulting in the apparent reinstatement of a star athlete who had been expelled by the university president. The commissioner's actions, and his rationale for those actions, should be made public.
The Brechner Center's brief was co-signed by the Student Press Law Center, the National Freedom of Information Coalition, the News Leaders Association, the Society of Professional Journalists, Gannett Co., Inc., and the E.W. Scripps Company. The brief was prepared with the assistance of attorney Michael C. Hiestand of the Student Press Law Center.
The Brechner Center's involvement in FERPA reform is part of the Center's Privacy and Accountability Project, which works to achieve a balanced approach to privacy law that values the public's right of access to information.
Posted: December 9, 2019
Category: Brechner News
Tagged as: campus sexual assault, FERPA, Jon Krakauer, Privacy and Accountability Project, student privacy, University of Montana Grizzlies