Frank LoMonte Comments on Obstructive Public Information Officers
Frank LoMonte, University of Florida College of Journalism and Communications Brechner Center for Freedom of Information director, is quoted in "How to Deal with Obstructive Public Information Officers? Challenge Them" published in the Columbia Journalism Review on May 20.
The article focuses on the illegality of blanket no-interview policies by Public Information Officers (PIOs) at government agencies.
According to LoMonte, PIOs are deployed by both public and private entities to control journalists' inquiries and the practice is illegal.
"In almost every corner, [reporters] on the beat see that people are forbidden from speaking to reporters," LoMonte said. "It's a recurring pain point for people on all levels, from the feds – such as the EPA and the Social Security Administration—to the smallest counties."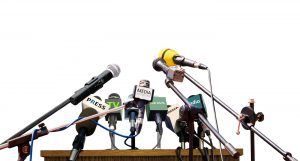 LoMonte added that journalists stand a better chance of changing the restrictive practice by challenging it rather than accepting canned responses from communication teams. He is working to create a roadmap to help journalists and news organizations. His premise rests on an analogy between access to sources and court battles over free speech. He believes that obstructive PIOs are as problematic as gag orders during highly publicized trials.
LoMonte's advice to journalists facing uncooperative agencies and their PIOs is to get a written copy of the agency's media policy.
"Public information officers often have little or no authority themselves to enforce the policies they write. There's a real legal question as to how enforceable a memo like that is," he said.
Posted: May 21, 2019
Category: Brechner News
Tagged as: Brechner Center for Freedom of Information, Columbia Journalism Review, Frank LoMonte