Frank LoMonte Comments on Pending Florida Legislation Limiting Access to University President Searches
University of Florida College of Journalism and Communications Brechner Center for Freedom of Information Director Frank LoMonte's opinion article "Finding University Presidents in Secret Helps Profiteers, Not the Public" was published in the Orlando Sentinel on April 8.
LoMonte comments on legislation that recently passed the Florida House Senate Affairs Committee to close public access to records of university presidential searches.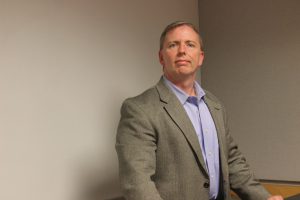 He counters the claim that without secrecy, good candidates won't visit the campus. "The fact is that there is no evidence that hiring presidents in secret, closed meetings produces more successful presidencies," LoMonte writes. "There is powerful contrary evidence that secrecy results in presidents who are misfits with their campuses, or have buried scandals that should be disclosed and discussed before a costly mistake is made."
LoMonte is quoted on the same topic in "Experts Urge Caution as Florida Lawmakers Push to Make College President Searches More Secret" published in the Tampa Bay Times on April 8.
LoMonte explains how the push to conduct these searches in secrecy has been the work of private executive-search firms that prefer to do their business outside public scrutiny.
"If you are a search firm, your merchandise is your list of resumes. That's what you have to sell. Having the candidates discussed in public for one search damages their merchandise for future searches," said LoMonte. "The push for more secrecy has nothing at all to do with the quality of the candidates, and everything to do with protecting the commercial business of search firms," LoMonte told the Times.
Posted: April 9, 2019
Category: Brechner News
Tagged as: Brechner Center for Freedom of Information, Frank LoMonte, Orlando Sentinel, Tampa Bay Times