Hearst Foundations Awards Brechner Center $125,000 to Address Government "Data Deserts"
The University of Florida College of Journalism and Communications announced today that the Brechner Center for Freedom of Information has been awarded $125,000 from the Hearst Foundations for the Center's "Data Deserts" initiative.
The initiative, which will be named the Hearst Data Deserts Project, is intended to improve the quality of civic data by spotlighting the deficiencies in information-gathering and developing public-policy solutions.  By putting more reliable information into the hands of journalists and the general public, the Hearst Data Deserts Project will help produce more informed citizen participation.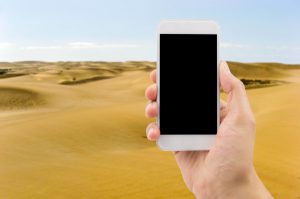 "Access to timely, fact-based information is critical to informed civic participation," said Diane McFarlin, dean of the UF College of Journalism and Communications, which houses the Brechner Center. "Many government agencies fail to keep reliable information about matters critical to the public. Information about urgent public health-and-safety matters – from police shootings to school sexual assaults to hate crimes – is kept, if at all, in haphazard ways.  We are deeply grateful to the Hearst Foundations for supporting the Brechner Center's initiatives to address these 'data deserts'."
Data Deserts will include three ongoing and complementary activities: (1) identifying, through original reporting and stakeholder interviews, the most acute deficits where government is failing to systematically measure, verify and report essential information, (2) researching existing legal obligations to gather and publish data that are going unenforced, and (3) building coalitions to create pressure for more pro-disclosure public policies and promulgating model policies and standards for data management.
"One of the Brechner Center's top priorities is to tap into the skills of student investigative journalists to spotlight the shortcomings of government data-gathering and create consensus toward improvement," said Frank LoMonte, Brechner Center director. "With the Hearst Foundations' support, we'll be able to shine a bright spotlight on the 'data deserts' where public agencies are falling short in their duty to gather and report reliable, apples-to-apples data about essential public concerns."
The grant will be used to support two primary "deliverables":
Two Visiting Fellow positions for experienced practitioners in media and technology to spend a residency working at the Center on projects of their own design that advance the accessibility of high-quality data.
Stipends and expense allowances for journalism and law students to develop and publish in-depth data journalism projects, focused on identifying the most serious deficiencies in government data and solutions to those deficiencies.
Posted: April 9, 2019
Category: Brechner News
Tagged as: Brechner Center for Freedom of Information, Frank LoMonte, Hearsts Foundation