Frank LoMonte Comments on Social Media Posts and Florida's Record Retention Law
Frank LoMonte, University of Florida College of Journalism and Communications Brechner Center for Freedom of Information director, is quoted in "Edgewater's 'Family Affair' Government Leads to Possible City Council Violations" published in The Daytona Beach News-Journal on March 30.
In the article, LoMonte comments on a government organization's failure to archive social media posts, potentially in violation for Florida's record-retention law.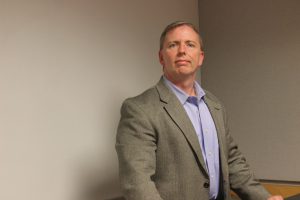 "The individuality of the rules around each record complicates enforcement," said LoMonte. "Every state has a law requiring government officials to retain the public records they create, but those laws are purposefully designed to be flexible and leave a lot of room for judgment calls. Context is everything."
LoMonte adds that Florida has "unusually" strong sanctions for deleting records that should have been saved, but it can be tough to enforce because social media records have not been reviewed enough by the courts to help set a precedent.
"Destroying a record you should have saved carries the same penalties — including, in extreme cases, misdemeanor criminal penalties — as failing to turn over a public record that's in your possession," he said. "So there are real teeth in the law."
"The dirty little secret of public records laws is, they're always a matter of the honor system. I think the solution to the disappearance of electronic records is going to be more technological than legal," he said. "Anyone who sets up a government Facebook page or Twitter account needs to have an easy way to automatically archive every post, so there's a backup copy in case somebody gets overly aggressive with the Delete key. There ought to be a dot-gov subcategory of pages on Facebook where everything automatically backs itself up into an archive," said LoMonte.
Posted: April 4, 2019
Category: Brechner News
Tagged as: Brechner Center for Freedom of Information, Daytona Beach News-Journal, Frank LoMonte