Frank LoMonte Comments on Illegal Social Media Posts and First Amendment Rights
Frank LoMonte, University of Florida College of Journalism and Communications Brechner Center for Freedom of Information director, is quoted in "Where Did This Law Come From? Look back to 2008 to Understand Why It's Illegal to Post Certain Videos to Facebook?" published in The Daily Advertiser (Lafayette, Louisiana) on Feb. 22.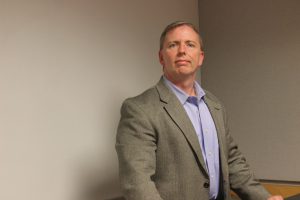 The article focuses on a 2008 Louisiana law against posting videos and photos of illegal activity on social media. Maegan Adkins-Barras was arrested for violating this law by posting a video of a fight between students at Acadiana High School. She was not involved in the fight.
According to LoMonte, the law does not apply to her case and her post. He also questioned if the law was constitutional.
"I have seen narrower statutes proposed that apply only to that setting, where shooting the video is central to the purpose of committing the crime, but this is a far broader version and that makes it constitutionally questionable," LoMonte said. "Laws regulating speech are unconstitutional if they're not very narrowly drawn, and I think this law would be vulnerable to a First Amendment challenge because of its breadth."
LoMonte explained that the law doesn't limit itself to violent crimes but that any crime could be covered, making it a slippery slope.
"That doesn't seem to be very narrowly tailored to the harm it's intended to prevent, which I assume is people committing battery or committing sexual assault and then posting the video to further harm the victim," LoMonte said.
LoMonte was also quoted in "University of Michigan Underlines Free Speech Protections," published on Grand Rapids, Michigan, ABC news site 13 On Your Side on Feb. 23. The story focuses on a lawsuit against the University of Michigan alleging that university policies prohibiting harassment are unconstitutional.
According to LoMonte, public university employees can't silence speech unless it's extreme, such as including a threat of violence.
"'Hate speech' does not have any legally understood definition, and it's so subjective that it could expose people to punishment for even a sharply worded political statement," LoMonte said.
Posted: February 25, 2019
Category: Brechner News
Tagged as: Brechner Center for Freedom of Information, Frank LoMonte