Frank LoMonte Writes about Campus Free Speech Legislation
Frank LoMonte, University of Florida College of Journalism and Communications Brechner Center for Freedom of Information  director, is the author of "The Legislative Response to a Perceived 'Free Speech Crisis' on Campus" published in the American Bar Association's Communications Lawyer Winter 2019 edition.
In the article, LoMonte surveys recent legislative action addressing students' right to speak and publish freely at colleges and universities and identifies where the first wave of "campus free speech" laws may be vulnerable to constitutional challenge.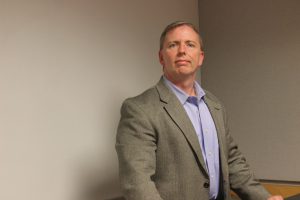 "Whether the First Amendment applies with full force to college students' interactions with their institutions is an unsettled question," he said. "The Supreme Court has never indicated that the robust prohibitions against content-related punishment of speech diminish when the speaker is a student and the regulator is a college. To the contrary, the Court has consistently protected the right to engage in provocative and even offensive speech on a college campus."
LoMonte said student-speech laws that have not been reviewed by the Supreme Court may need clarification through legislative assistance.
"The pressure on colleges to censor disagreeable speech, both by offended listeners and self-generated by colleges' own determination to project a favorable public image, is intensifying," he said. "With that intensification will come more line-drawing debates, until the Supreme Court, Congress, or state legislatures erect clear boundaries cabining the authority of colleges to enforce image-motivated restrictions on speech."
Posted: February 4, 2019
Category: Brechner News
Tagged as: Brechner Center for Freedom of Information, Frank LoMonte