Frank LoMonte Offers Brechner Center Assistance to Expedite Public Record Access
Frank LoMonte, University of Florida College of Journalism and Communications Brechner Center for Freedom of Information director, was mentioned in "Portland Police Chief Calls Sluggish Public Record 'Huge Issue' That Must Be Fixed" published in The Oregonian on Dec. 14.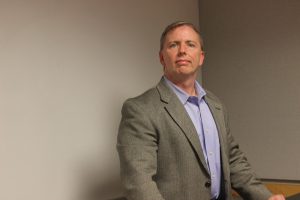 The article focuses on the delay in fulfilling public records requests, specifically police reports, in Portland, Oregon because the function has been delegated to a skeleton crew.
LoMonte offered to provide free diagnostic services from the Brechner Center to help make the process more efficient and to help Portland become a model agency for police records. However, the mayor's office ignored the offer.
According to the mayor's office spokeswoman Eileen Park, "We appreciate Frank LoMonte for reaching out to us to offer his help. We have been planning internally and speaking with local journalists about improving public records disclosure citywide and understand that the police records division has its own unique challenges. When the time is right we'll engage with experts and leaders in this field and seek their input."
Posted: December 18, 2018
Category: Brechner News
Tagged as: Brechner Center for Freedom of Information, Frank LoMonte