Frank LoMonte Comments on Open Records Laws and Victim Safety
Frank LoMonte, University of Florida College of Journalism and Communications Brechner Center for Freedom of Information director, was quoted in "University of Northern Colorado Won't Release Records Related to Suspended Fraternity" published in the Greeley (Colo.) Tribune on Nov. 7.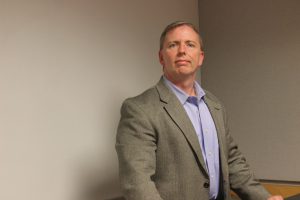 The article focuses on the University of Northern Colorado's refusal to release records on a fraternity suspension for numerous violations of the student code of conduct including sexual harassment and use of controlled substances. The University cited several exemptions including a Colorado exemption to releasing records related to sexual harassment, as well as the federal Family Educational Rights and Privacy Act of 1974.
According to LoMonte, there has been an increase in awareness and requests for these types of records since the #metoo movement. He does not allege any sort of open records violations on the part of UNC, however questions their priorities and records management practices.
"It's possible to create records that give people the basic information to keep themselves safe — if that's the priority," LoMonte said. "It's also a matter of public accountability: that the university takes complaints seriously and punishes them proportionally."
He emphasizes that if the process was transparent and complaints were made public, there is no indication that victim safety would be compromised.
"With sexual harassment and sexual misconduct cases, our lawmakers need to revisit their secrecy policies," LoMonte said. "It's possible to turn over some kind of factual information to keep the public informed and (promote safety)."
Posted: November 8, 2018
Category: Brechner News
Tagged as: Brechner Center for Freedom of Information, Frank LoMonte