Frank LoMonte Comments on Public Records Access Priorities
Frank LoMonte, University of Florida College of Journalism and Communications Brechner Center for Freedom of Information director, was quoted in "#317 – Making Access to Public Records a Public Priority" published on itsalljournalism.com on Aug. 2.
The article focuses on how to get the average person to care about open government laws and the daunting task journalists encounter when trying to access public records.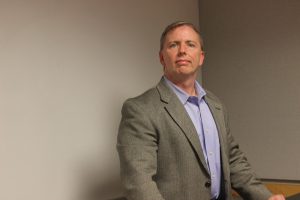 "In my years of doing this work, I've become increasingly convinced you can't sue your way to success," he said. "I've worked on the opposing side with government agencies that will lose a lawsuit and will turn right around the next day and go back to the old ways as if nothing happened because it's not their money."
He adds that lawsuits can propel an issue forward, but substantial progress is made when stakeholders are brought together.
"What I'm talking about is broadening the coalition for openness in government. Not just journalists, they've always been bearing the load and carrying the weight of advocating for open government, but people like Black Lives Matter, people like environmentalists, who benefit from access to information, making open government their fight too," said LoMonte.
Posted: August 9, 2018
Category: Brechner News
Tagged as: Brechner Center for Freedom of Information, Frank LoMonte, public records