Frank LoMonte Comments on the Importance of Student Media and the First Amendment
Frank LoMonte, University of Florida College of Journalism and Communications Brechner Center for Freedom of Information director, was the author of "Beyond the Hashtag: Saving Student Newsrooms" published on Medium on April 25.
LoMonte discusses the UF-born #SaveStudentNewsrooms awareness campaign created in response to First Amendment issues at U.S. colleges and universities. Currently, 129 college media organizations are participating in the movement through editorials, social media posts, videos and more.
LoMonte says that the First Amendment is under regular attack by campus authority figures fixated on cultivating a positive image for donors and legislators.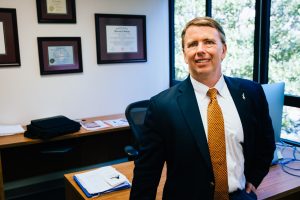 "The impact of colleges' obsession with 'protecting the brand' is being felt in newsrooms across the country, where student-run media outlets are facing existential threats to their survival. With a few notable exceptions, college administrators' attitude toward independent, student-led newsrooms generally runs from apathy to open hostility. Some are actively working to smother or starve watchdog journalism, and others are content to indifferently watch it die," he said.
LoMonte also was featured in "Show Your Work: A Conversation with Frank LoMonte," on the <modern_media> podcast recorded on April 27.
In the podcast, LoMonte discusses with host DePauw University Professor Jonathan Nichols-Pethick the importance of student media, the value of journalism education, the need for transparency and the free flow of information.
<modern_media>, a podcast of the Eugene S. Pulliam Center for Contemporary Media at DePauw University, features practitioners, scholars and educators discussing vital issues and trends in the world of contemporary media.
Posted: May 3, 2018
Category: Brechner News
Tagged as: , #SaveStudentNewsrooms, Frank LoMonte, Medium