A call for reforming student privacy laws that impede the public's access to essential safety information
Confusing federal privacy laws are regularly misapplied to obstruct journalists' and parents' access to essential safety information about public schools, the Brechner Center's Frank LoMonte writes in an opinion column for Education Week magazine.
In the March 16 article — "Student Privacy Laws Have Been Distorted (And That's a Problem)" — LoMonte explains how, despite seemingly clear directives from the courts and the U.S. Department of Education to apply FERPA narrowly, the statute has in fact been applied as a catch-all excuse for educational institutions to refuse comment on matters involving safety and discipline. The column highlights a South Florida school's refusal to release records about the disciplinary history of the accused gunman in a Feb. 14 mass shooting that left 17 people dead, taking the position that FERPA protects even the privacy rights of an admitted mass killer: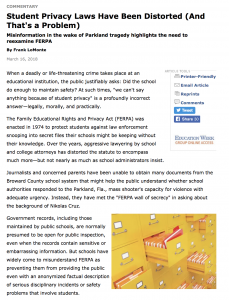 "When journalists ask for records about a case like Nikolas Cruz's, their purpose is to assess how government officials did their jobs. Right now, it is up for serious debate whether school authorities responded properly to a potential threat at Marjory Stoneman Douglas High School—but without access to the school's records, the debate is an uninformed one."
FERPA was enacted in 1974 to require schools and colleges to enforce policies that safeguard the confidentiality of "education records," but it does not apply to information gleaned from school authorities' personal knowledge or from records of law-enforcement agencies. Nevertheless, LoMonte writes, it is now commonplace for schools to refuse to release even de-identified factual descriptions of threats or violent incidents, erroneously claiming that FERPA forbids doing so.
The column calls on Congress to clarify the definition of "education records" so the public can get more complete information about how schools and colleges use their punitive authority, and whether those institutions respond adequately when safety is imperiled.
The Brechner Center's Privacy and Accountability Project works to reform unclear or overbroad privacy laws that impede the public's ability to obtain government records. 
Posted: March 21, 2018
Category: Brechner News
Tagged as: FERPA, Marjory Stoneman Douglas High School, school shootings, student privacy