The Ledger (Lakeland) Wins 28th Annual Brechner Award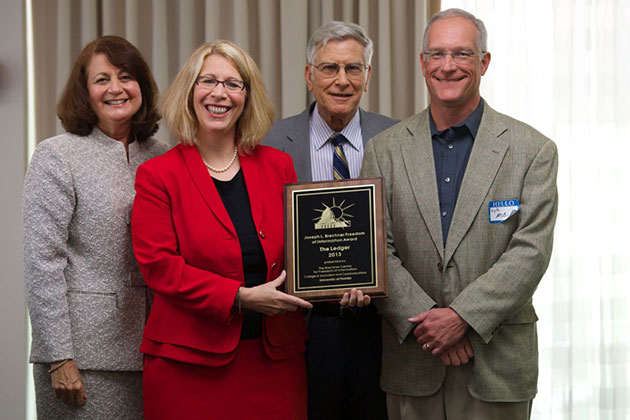 The Ledger (Lakeland) has been named the winner of the 28th Annual Joseph L. Brechner Freedom of Information Award for its investigative series. The award-winning series highlights the difficulties reporters and citizens face when they try to exercise their fundamental constitutional right to access government information.
"The series exposed blatant violations of the law, and forced a number of local agencies and officials to change their procedures to comply with the law," Sandra F. Chance, executive director of the Brechner Center for Freedom of Information, said.
"The two-year-long investigation uncovered a stunning lack of understanding of the state's government in the sunshine law by many of Lakeland's public officials. They found an appalling lack of compliance with the law and a disturbing failure by these officials to understand the important role theses laws play in protecting our democracy and our ability to oversee our government," Chance continued.
"This is the kind of reporting that reminds us that the laws are only as effective as the government's commitment to openness and transparency, and how important a free press and an engaged citizenry are in guarding against government wrongdoing," Chance added.
UF's College of Journalism and Communications Dean Emeriti Ralph Lowenstein will present the $3,000 prize to The Ledger's Editor, Lenore Devore and Investigative Reporting Team Editor Lyle McBride at the Florida Free Speech Forum's annual Buddy Davis award luncheon on April 14, 2014.
The annual award was established by the late Joseph L. Brechner, an Orlando broadcaster. Previous award winners include: the AP, the San Francisco Chronicle, The Miami Herald, The Washington Post, the Columbia Journalism Review, The St. Petersburg Times, The Dallas Morning News, the (South Florida) Sun-Sentinel and the Houston Chronicle.
Located at the University of Florida (UF) in Gainesville, Fla., the Brechner Center for Freedom of Information exists to educate and promote freedom of information laws and policies. It serves the students of UF, Florida citizens, media lawyers and journalists nationally and internationally by providing training sessions, answering queries and conducting scholarly research on First Amendment and freedom of information issues.
Posted: April 14, 2014
Category: Brechner News
Tagged as: Brechner Awards, The Ledger