North Carolina's The News & Observer Named 26th Annual Brechner Award Winner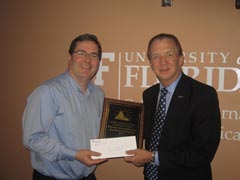 The News & Observer has been named the winner of the 26th Annual Joseph L. Brechner Freedom of Information Award for exposing how public employees who lied, cheated and stole from the taxpayers of North Carolina benefited from one of the country's most secretive personnel records laws. The News & Observer's coverage eventually resulted in significant changes to North Carolina's law, resulting in more openness and transparancy.
"These stories demonstrate the critical role investigative reporting and freedom of information laws play in exposing the misconduct and at times, criminal conduct of public employees," Sandra F. Chance, executive director of the Brechner Center for Freedom of Information, said.
The series will be recognized with a $3000 prize, which will be presented to The News & Observer reporter Dan Kane at an awards ceremony on Friday, April 20, 2012 at 1 p.m. at the University of Florida College of Journalism and Communications.
"The News & Observer's strong investigative reporting revealed shocking incidents of corruption and dishonesty by public employees and elected officials," Chance said. "This is the kind of reporting that reminds us of how important a free press is in guarding against government wrongdoing."
Kane reported how easily abusive cops, teachers who slept with their students and clerks who stoled from the public coffers could change jobs with little risk of exposure. His investigation detailed how these employees received undeserved pensions, undisclosed perks and years of inflated salaries. Following the ground-breaking series, North Carolina's legislature passed major reforms, openeing up what had been one of the nation's most secretive personnel laws to allow for significantly more transparancy.
Posted: April 20, 2012
Category: Brechner News
Tagged as: Brechner Awards, News & Observer