Miami Herald Reporters Win the 22nd Annual Joseph L. Brechner Freedom of Information Award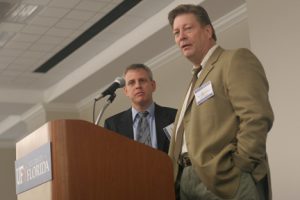 Two reporters from The Miami Herald are the recipients of the 22nd annual Joseph L. Brechner Freedom of Information Award for their work on an investigation that uncovered illegal case sealing practices in the Broward court system and beyond. Patrick Danner and Dan Christensen revealed that the Broward courts had improperly removed more than 100 civil cases from the court docket since 2001, and dozens others had been removed in circuit courts around Florida.
"Patrick Danner and Dan Christensen remind journalists of the importance of utilizing the right to freedom of information in their reporting," said Sandra F. Chance, executive director of the Brechner Center for Freedom of Information. "Without utilizing these rights, many stories like these are kept from public scrutiny."
The Miami Herald sued for access to case numbers and party names and found many of the confidential cases involved the divorces of high profile individuals and civil litigation involving public, tax-funded agencies. The work of Danner and Christensen further found that the courts had been improperly leaving criminal cases off the docket and some judges had not followed the law when sealing the cases.
In response to the reporters' investigation, the Florida Attorney General launched an investigation and the Florida Supreme Court Chief Justice ordered every chief judge in the state to review their case sealing procedures. The Herald's reporting prompted similar investigations by newspapers across Florida. "The work of The Miami Herald is a prime example of how diligent reporting can result in systematic changes in how the government works," Chance said.
Christensen was also the 2004 recipient of the Brechner Award for his investigation of secret dockets at the federal level during his time at the Miami Daily Business Review.
The annual award was established by the late Joseph L. Brechner, an Orlando broadcaster. Previous award winners include: the San Francisco Chronicle, The Washington Post, the Columbia Journalism Review, The St. Petersburg Times, The Dallas Morning News, the Sun-Sentinel and the Houston Chronicle.
Located at the University of Florida (UF) in Gainesville, Fla., the Brechner Center exists to educate and promote freedom of information laws and policies. It serves the students of UF, Florida citizens, media lawyers and journalists around the country by providing training sessions, answering queries and conducting scholarly research on First Amendment issues
Posted: October 18, 2007
Category: Brechner News
Tagged as: Brechner Awards, Miami Herald