Associated Press Writer Named 2006 Brechner Award Winner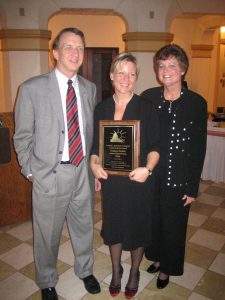 A groundbreaking, detailed series by The Associated Press that examined the treatment and prosecution of detainees at Guantanamo Bay was named the winner of the 2006 Joseph L. Brechner Center for Freedom of Information Award, according to Sandra F. Chance, executive director of the Brechner Center. "Guantanamo Exposed" was written by Associated Press writer Paisley Dodds, who now serves as the bureau chief in London. Dodds has covered Guantanamo Bay since the U.S. opened the detainee camp in 2002. Taking a look back during the camp's third year in existence, the 2005 series revealed psychological pressures and harsh conditions for the approximately 520 male, terrorist suspects, from 40 countries, held at the secretive U.S. detention camp.
The series was recognized with a $3,000 prize at the 21st Annual Brechner Center for Freedom of Information award celebration at the Thomas Center in Gainesville, Fla., on Nov. 13, 2006.
The U.S. government released to the Associated Press nearly 3,000 pages of documents under a Freedom of Information lawsuit. The documents – with names and city, village, and country names redacted – account for nearly 100 testimonies at secretive tribunal proceedings where detainees complained there was no evidence against them and alleged abuse at the prison camp. The series also found that detainees were coerced into confessions and were subjected to female interrogators using sexual tactics to weaken Muslim detainees.
The annual award was established by the late Joseph L. Brechner, an Orlando broadcaster. Previous award winners include: the San Francisco Chronicle, The Washington Post, the Columbia Journalism Review, The St. Petersburg Times, The Dallas Morning News, the Sun-Sentinel and the Houston Chronicle.
Located at the University of Florida (UF) in Gainesville, Fla., the Brechner Center exists to educate and promote freedom of information laws and policies. It serves the students of UF, Florida citizens, media lawyers and journalists around the country by providing training sessions, answering queries and conducting scholarly research on First Amendment issues.
Posted: November 13, 2006
Category: Brechner News
Tagged as: Associated Press, Brechner Awards