The Argus Leader Wins FOI Award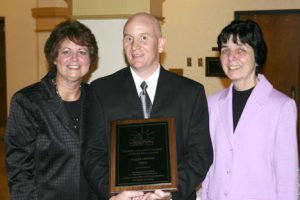 A hard-hitting investigative series by the Argus Leader was named the 2005 winner of the Joseph L. Brechner Center for Freedom of Information Award, according to Sandra F. Chance, executive director of the Brechner Center. The series uncovered the secret and illegal sealing of criminal pardons in South Dakota.
The newspaper revealed that former governor and U.S. congressman Bill Janklow pardoned convicted murderers, sex offenders, former state officials, his legal counsel and his own son-in-law. Ironically, Janklow was convicted of manslaughter for a traffic accident that killed a motorcyclist in 2003. The series will be recognized at the 20th Annual Brechner Center for Freedom of Information award celebration at the Thomas Center in Gainesville, Fla., on Nov. 30. 2005.
"This series is a wonderful example of how tenacious investigative reporting, coupled with a willingness to aggressively defend the public's right to know, can positively impact the democratic process," according to Sandra Chance.
The newspaper, joined by the AP and 15 other South Dakota media organizations, challenged the legality of the process and the South Dakota Supreme Court ultimately ordered the state to release the names of people secretly and illegally pardoned. "South Dakota has one of the worst, if not the worst public records laws in the nation. This series is responsible for helping to change that," according to Chance.
After the articles appeared, the South Dakota Legislature enacted reforms that would prevent future governors from concealing the names of pardon recipients, she explained. "Theses stories highlight the importance of exposing governmental secrecy and protecting the right of the public to oversee the actions of their government officials and hold them accountable for those actions," Chance said.
The annual award was established by the late Joseph L. Brechner, an Orlando broadcaster. Previous winners include: the San Francisco Chronicle, The Washington Post, the Columbia Journalism Review, The St. Petersburg Times, The Dallas Morning News, the Sun-Sentinel and the Houston Chronicle.
Located at the University of Florida (UF) in Gainesville, Fla., the Brechner Center exists to educate and promote freedom of information laws and policies. It serves the students of UF, Florida citizens, media lawyers and journalists around the country by providing training sessions, answering queries and conducting scholarly research on First Amendment issues.
Posted: November 30, 2005
Category: Brechner News
Tagged as: Argus Leader, Brechner Awards