The Daily Business Review wins FOI Award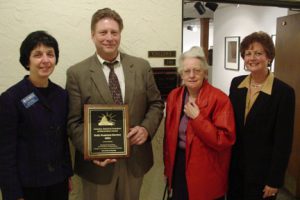 A groundbreaking series by the Daily Business Review was named the winner of the Joseph L. Brechner Center for Freedom of Information Award, according to Sandra F. Chance, executive Director of the Brechner Center. The articles, written by federal court reporter Dan Christensen, exposed how federal judges were suppressing civil and criminal cases by wiping them off the public record.
Typically, even sealed cases appear on the public docket, but in these instances, judges tried to conceal their existence from the public. The articles were recognized at the 19th Annual Brechner Center for Freedom of Information award celebration on Jan 31, 2005 at the Thomas Center in Gainesville Florida.
"Christensen and the Review attacked one of the most serious yet under-reported problems affecting First Amendment rights since Sept. 11–secrecy in the courts," according to Brechner Center Executive Director, Sandra Chance. "His series documents how government corruption, when unchecked, can wreak havoc on citizens," Chance said. "This story is a bone-chilling reminder of what happens when we sacrifice civil liberties in the name of security."
Christensen exposed the practice of super-sealing, which hides cases completely from the public by veiling even the case numbers that would normally allow them to be tracked on the court's docket. He discovered the practice when he happened upon the case of Mohamed Kamel Bellahouel, a young Arab man detained by authorities following the Sept. 11, 2001, terrorist attacks. Bellahouel was a waiter at a South Florida restarurant frequented by several Sept. 11 highjackers. He was imprisoned for five months on an immigration charge until authorities decided he was not a threat and released him. Bellahouel's habeas complaint, filed while he was in custody and sealed by a judge, was kept completely secret. Christensen's reporting fueled an intense, nationwide public discussion of this previously unknown brand of secrecy.
The Review's coverage led to the formation of a public-interest coalition of 23 media, legal and labor organizations that sought to intervene in the Bellahouel case in order to protect public access to court proceedings. "This series is a masterpiece of investigative reporting," Chance said, "and vividly illustrates the importance of monitoring our government's activities as we struggle with balancing the need to protect national security with the need for information about our government and the decisions coming out of our judicial system."
The annual award was established by the late Joseph L. Brechner, an Orlando broadcaster. Located at the University of Florida (UF) in Gainesville, Fla., the Brechner Center exists to educate and promote freedom of information laws and policies. It serves the students of UF, Florida citizens, media lawyers and journalists around the country by providing training sessions, answering queries and conducting scholarly research on First Amendment issues.
Posted: January 31, 2005
Category: Brechner News
Tagged as: Brechner Awards, Daily Business Review