The San Francisco Chronicle Wins FOI Award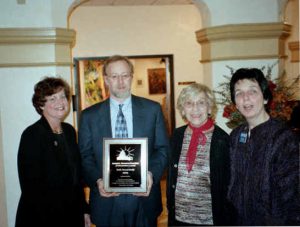 A gripping freedom of information series by the San Francisco Chronicle was named the 2003 winner of the Joseph L. Brechner Center for Freedom of Information Award, according to Sandra F. Chance, executive director of the Brechner Center. The series, titled "The Campus Files: Reagan, Hoover and the UC Red Scare," reveals how J. Edgar Hoover's Federal Bureau of Investigation (FBI) engaged in unlawful intelligence activities at the University of California (UC) at Berkeley and tried to cover them up for 17 years.
The series was recognized at the 18th Annual Brechner Center for Freedom of Information award celebration on Nov. 10 at the Thomas Center in Gainesville, Fla.
"His series documents how government corruption, when unchecked, can wreak havoc on citizens," Chance said. "It demonstrates that freedom of information is fundamental to government accountability and an informed citizenry, particularly in times of crisis."
The eight-page piece encompasses the dedicated work of journalist Seth Rosenfeld who challenged the FBI after it refused his freedom of information requests. After a 15-year battle and $1 million in expenses, the bureau was required to turn over more than 200,000 document pages to Rosenfeld.  His research uncovered how the FBI conspired with the head of the Central Intelligence Agency (CIA) and a member of the University's Board of Regents to harass liberal faculty, students and fellow regents. He also revealed their campaign to destroy the career of UC President Clark Kerr and attempts to unlawfully withhold public records by making unfounded claims of national security.
"This series is a masterpiece of investigative reporting," Chance said, "and vividly illustrates the necessity for enforcement of open government laws as we struggle since Sept. 11 to balance the need to protect national security with the need for information about our government and the decisions our public officials are making."
The annual award was established by the late Joseph L. Brechner, an Orlando broadcaster. Previous winners include: The Washington Post, The Columbia Journalism Review, The St. Petersburg Times, The Dallas Morning News, The Sun-Sentinel and The Houston Chronicle.
Located at the University of Florida (UF) in Gainesville, Fla., the Brechner Center exists to educate and promote freedom of information laws and policies. It serves the students of UF, Florida citizens, media lawyers and journalists around the country by providing training sessions, answering queries and conducting scholarly research on First Amendment issues.
Posted: November 10, 2003
Category: Brechner News
Tagged as: Brechner Awards, San Francisco Chronicle